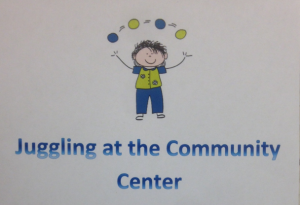 JUGGLING AT THE COMMUNITY CENTER!!!
COME AND JOIN US AND BRING A FRIEND!
Open to all kids, ages 4 and older ( parents must remain on-site with Children 6yo. and under )
Guest Heather Wilfley will be giving a free juggling lessons and open juggling time for youth.
Tuesday February 24 th 10:00 am.
Bud Walker Community Center Game Room, 290 W 5th Street.
To have fun introducing the brain developing benefits of juggling.